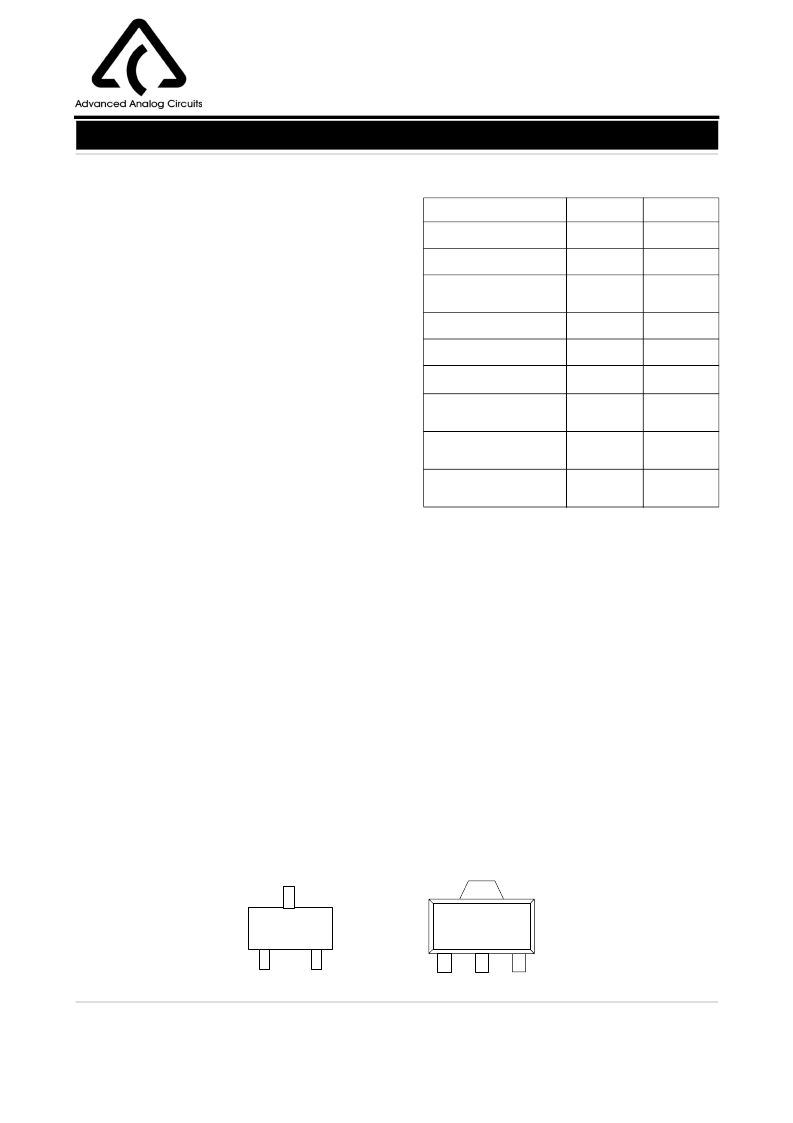 Description
The AZ431-A series ICs are three-terminal adjustable
shunt regulators with guaranteed thermal stability over a
full operation range. These ICs feature sharp turn-on char-
acteristics, low temperature coefficient and low output
impedance, which make them ideal substitutes for Zener
diodes in applications such as switching power supply,
charger and other adjustable regulators.
The AZ431-A series ICs are of 40V voltage type. Its out-
put voltage can be set to any value between V
REF
(2.5V)
and 36V.
The AZ431-A precision reference is offered in two band-
gap tolerance: 0.4% and 0.8%.
Features
·
Programmable Precise Output Voltage from 2.5V to
36V
Very Accurate Reference Voltage: 0.15% Typical
High Stability under Capacitive Load
Low Temperature Deviation: 4.5mV Typical
Low Equivalent Full-range Temperature Coefficient
with 20PPM/
o
C Typical
Low Dynamic Output Resistance: 0.2
Typical
Sink Current Capacity from 1mA to 100 mA
Low Output Noise
Wide Operating Range of -40 to 125
o
C
·
·
·
·
·
·
·
·
Applications
·
·
·
·
·
Charger
Voltage Adapter
Switching Power Supply
Graphic Card
Precision Voltage Reference
Benefits
·
·
·
Easier to Stabilize
Ultra Low Temperature Coefficient
Higher V
REF
Accuracy
Wider Operating Temperature Range
Very Competitive Price
·
·
Parametric Table
AZ431A-A
AZ431B-A
I
KA
(Max) (mA)
100
100
I
KA
(Min) (mA)
0.4
0.4
V
OUT
/ V
REF
Initial
Tol. (%)
V
OUT
(Max) (V)
0.4
0.8
36
36
V
OUT
(Min) (V)
2.5
2.5
Z
KA
(Typ) (
)
0.15
0.15
Temp Coeff. (Typ)
(PPM/
o
C
)
Operating Temperature
(Min) (
o
C
)
Operating Temperature
(Max) (
o
C
)
20
20
-40
-40
+125
+125
Additional Available Materials
·
·
·
·
Samples
Datasheet
Reliability Report
ESD Report
Nov. 2004
BCD Semiconductor Manufacturing Limited
Product Brief
ADJUSTABLE PRECISION SHUNT REGULATORS AZ431-A
Pin Configuration
SOT-23-3
SOT-89
ANODE
REF
CATHODE
REF
ANODE CATHODE
1
2
3
1
2
3